Cape Brewing Co On The Spice Route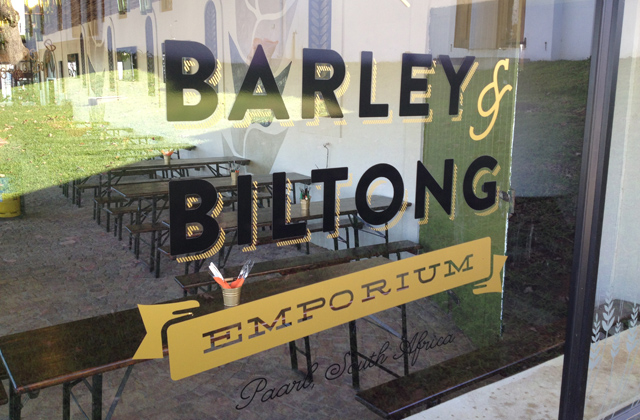 There's no denying the fact that I love a beer. I love 2 beers. 3 beers. 4 beers. Even 10 beers some days depending on how thirsty I am. Ten would be a good afternoon watching cricket in the heat at Newlands. Sometimes I have so many that I remember that line 'If you love something let it go, if it comes back it's meant to be' Which is obviously completely false, because letting go of a beer always ends in breakage, but this beer relationship is meant to last. I'm in it for the long run. I always tell people that it's healthier to drink a '96% water' than it is to drink a 25 grams of sugar Coke.
In fact, I'm writing this from Kelvin Grove and in order to fully get into character, I've got a beer right here with me. It's like, you need to get into character for movie roles, so why not writing? I'm also listening to Dire Straits, because it fits with the old school nature of Kelvin Grove. There's a fire burning in front of me, and I don't have to move to get anything. My card is behind the bar, and the staff are on hand at all times. All I need to do is write…so here goes.
So, yesterday, being a Tuesday, I decided I needed to get away from the usual and kick out to a place that has been on my to do list ever since it opened. It's called the Cape Brewing Company, and I've wanted to see a craft brewery in action for ages now. The thing is, craft breweries are usually so tiny that they haven't really set up much for visitors to experience. They make beer, bottle it and sell it, but they don't look to attract visitors to their brewery. I liked the idea of being able to taste the beers, at a proper tasting table, with the working of the brewery going on right next to me.
In theory this was great, in reality the noise at the Cape Brewing Company is quite something else. It's annoying to the point where I really wouldn't go back if the bottling line is moving. You want to taste beer in a place where you can at least hear what the guy pouring your beer is saying about the beer and it's characteristics. I tried listening, but after the 5th time of me saying 'Sorry, what?' I got over it and just nodded my head and smiled, while a man with a jackhammer pounded the inside of my skull.
It's a pity really, because the place has been set up so well. It's in a beautiful area, and the views from outside are amazing. Through the glass partitions you can see bottles being rinsed, filled and capped. You can see all the workers watching over things and hauling kegs, loading bottles and making sure that we get the freshest beer.
I really do think that they're going to need to completely block off the bottling line from the tasting area. At probably a decent cost, but I can't imagine the losses they will experience from people telling their friends not to visit.
I want to love the place, but I just can't because of the noise. Look through the glass and all the staff are wearing ear protection, and there we were, only metres away from them without anything, trying to listen to the guy who is attempting to tell us something about the beer. What was he trying to tell us? I don't know, something about the flavours and how the beer was made.
I'm pretty sure the situation can be fixed though, and it's a waste not to fix it. The brewery is situated in one of the most beautiful areas of the Western Cape, it's on the Spice Route which is a great attraction, they make great beer and they have all the brewing facilities set up.
I've visited SAB in Newlands and their production line is absolutely massive, so its great to see a smaller brewery in action as well.
Aside from this noise issue, let's talk about the beer. I love it. I've drunk CBC beer at my local (Barristers) on many occasions and they've got styles to suit everyone. Obviously for someone who is used to a regular beer, they can try the CBC Lager which is crisp and delicious, with more flavour than your regular lager from the local pub. Beer is just like any food and whisky, and we can go on to describe the flavours in depth, but what I can say is that CBC have a beer for everyone. Once you've done the tasting in the brewery section, you are free to move on down to the beer and biltong area and order some beers there, and either sit inside or outside. Obviously with the weather we've been having, we chose to sit outside.
I hate complaining (really) but the staff at Barley & Biltong were a bit slow. I walked in, they carried on doing what they were doing for about 5 minutes and then only asked me if I needed anything. It's fine, because they were serving other customers, but they could at least say 'Sorry we'll be with you now' and then I'm happy to wait. It's the small things that need attention. The reason I mention this is because I see the Cape Brewing Co naturally as an attraction for international visitors who always expect nothing but the best service. You want to leave a great impression on them so they'll tell their friends overseas that this is the place to visit when you're in the Western Cape.
Other than that, there is nothing more ridiculous than sipping fresh craft beer in this setting…
It really is something else sitting out there. It's quiet and still and peaceful, and it's weird that none of my friends who live in the Western Cape have visited the Spice Route.
I find that often, we're all looking for that next great escape, but we look so far that we forget what's at our feet. The Spice Route is right on our doorstep, and it's something we all need to visit. If I weren't from here, I'd be mind blown seeing such an amazing place.
So I've mentioned the noise of CBC and I fear that may overshadow this whole piece. Do I think you should still visit? Of course I do. Once you've done with the tastings, you're free to sip pints in peace on the lawn area which is an absolute treat. And once you're done with that, there is still the rest of the Spice Route to explore.
If the tasting area can be sorted out, and the staff could be a little more attentive, this would be the ultimate craft brewery destination in the Western Cape. It is new, and I'm sure they are working out the finer details so I'm looking forward to visiting again and seeing what improvements have been made.
For craft beer listing in South Africa, check out BrewMasters.co.za